Regular price
$24.00
Sale price
$19.20
Unit price
per
Sale
Sold out
Origin: China
Brew Color: Dark amber
Flavor Profile: Earthy, malty with bright citrus notes and a clean, crisp finish
Caffeine Content: 
Mandarin Orange Peel Pu-erh Tea is made from Palace Pu-erh from Yunnan Province baked into fresh, green citrus from Xinhui, Guangdong Province. With the absence of any additive, this artisan tea is infused with bright, bold flavors by a special all-natural process.
Pu-erh tea has long been complementary to the fruity aroma of citrus peel. Its first characteristic is the sweet, zesty notes that pleasantly lingers on the tongue, coaxed by the following gentle richness, signature to Pu-erh's earthy, mellow taste.
This unique Pu-erh is infused with the nutrients from its tangerine shell, and is even believed in traditional Chinese medicine to assist in "guiding qi downward." Crack these tea pearls in the palm of your hand, then toss the tea--tangerine shell and all--into freshly boiled water to brew and serve! Continue for several steepings to and enjoy its lingering aromas.
Net Wt. 2.56 oz. | 6 individually wrapped pearls/tin
Share
View full details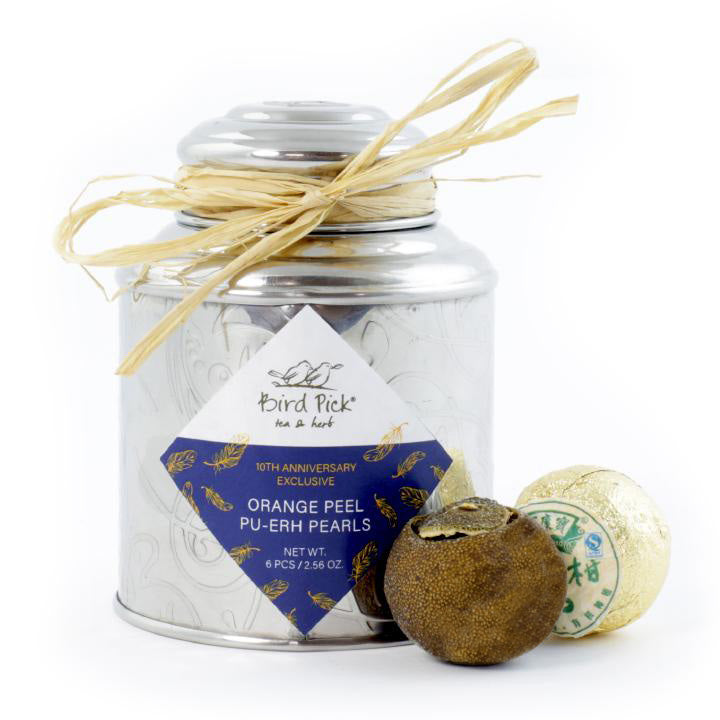 TEA 101
Brewing Directions

Crack 1 tea pearl in the palm of your hand, then place into a teapot of freshly boiled water to brew for 3-5 minutes.
Ideal water temperature: 190-212°F

Note: This tea may be re-brewed for several infusions.